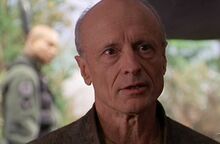 Bob Slattery is an intelligence official in the Bartlet administration.
Although originally identified as Assistant Secretary of State for Near Eastern Affairs, Slattery ("Bobby," as he is referred to by President Bartlet) often appears in the Situation Room and Oval Office providing analysis related to other areas of the globe.
During season four, in the run-up to the president's second inaugural, he advises Bartlet as to the best way to get a Force Depletion Report from the DoD without the knowledge of Defense Secretary Miles Hutchinson, a move that ultimately cost Lt. Cdr. Jack Reese his White House posting.
Portrayed by actor Thomas Kopache, he appears in Seasons 3-7.
Ad blocker interference detected!
Wikia is a free-to-use site that makes money from advertising. We have a modified experience for viewers using ad blockers

Wikia is not accessible if you've made further modifications. Remove the custom ad blocker rule(s) and the page will load as expected.